Easy Treats for Christmas
So bright it right here." 
Christmas is a time for families to come together and celebrate. It is also a time for many people to enjoy delicious and festive food. However, it's important to remember that different cultures and regions may have their own unique Christmas foods and traditions, so there is no one "right" way to celebrate Christmas with food. Sumptuous Christmas treats can also evoke nostalgia and help create a sense of tradition and community. In addition, the rich, comforting flavours of many Christmas dishes can help to lift people's spirits and add to the festive atmosphere.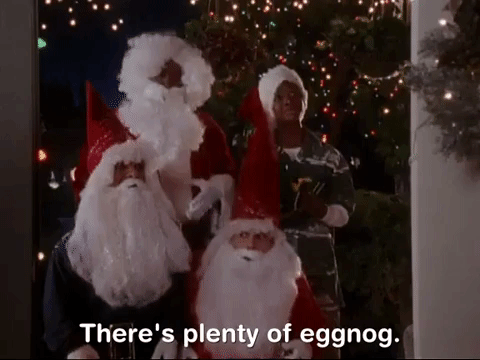 Some traditional Christmas dishes include roast turkey or ham, mashed potatoes, stuffing, gravy, cranberry sauce, and vegetables such as Brussels sprouts and carrots. Desserts often include Christmas pudding, mince pies, and fruitcakes. Many people also enjoy sipping on eggnog or hot chocolate. So, in this article, we will discuss some quick and easy recipes to enhance your Christmas eve. 
1) Mashed potatoes with toasted sesame oil: 
This creamy and delicious mashed potatoes with toasted sesame oil seal the deal for your Christmas eve.  
Ingredients: 
1 kg of Yukon gold potatoes peeled and quartered 
Kosher salt 
3 tsp melted vegan butter 
2 tsp toasted sesame oil 
2 thin sliced green onions 
2 minced garlic cloves 
Fresh cream 
Freshly ground black pepper 
Toasted sesame seeds (for garnish) 
Process: 
Add enough water to a large pot and add the potatoes. 

 

Season with salt and boil the potatoes for 12-15 minutes.

 

Strain the potatoes and mash it with a fork. 

 

Add melted butter and oil to the mash and stir with a wooden spoon. 

 

Add green onions, garlic, and fresh cream and stir until it combines with the potatoes. 

 

Season with salt and pepper. 

 

Garnish with green onions and toasted sesame seeds.

 
2) Vegan brownies: 
An eco-friendly substitute for your regular gluten brownies. These fudgy and decadent low-calorie brownies are packed with protein, and with a heavenly taste, it becomes the centre of the attraction of your dinner table.  
Ingredients: 
4 ounces of roughly chopped bittersweet chocolate

 

1/2 tsp espresso powder

 

1/3 cup of coconut oil

 

1/3 cup soy/almond/coconut milk

 

1/2 tsp cornstarch

 

3/4 cup of granulated sugar

 

1 cup almond flour

 

1/4 cup of cocoa powder

 

3/4 tsp baking powder

 

1/2 tsp kosher salt

 
Process: 
Take a microwave-safe bowl and pour chocolate and coconut oil.

 

Stir and melt the mixture for 30 seconds. 

 

Add espresso powder and whisk.

 

Eventually, add milk, cornstarch, and sugar and whisk again; ensure there are no lumps. 

 

Add baking powder, cocoa powder, flour and salt to the mixture. 

 

Grease the baking tray with butter or vegetable oil.

 

Combine the ingredients and spread the batter with an even layer to the baking tray.

 

Preheat the microwave at 350° F.

 

Bake the brownies for 15 minutes. Prick the brownies with a toothpick and ensure it comes out smooth and clean. If not, bake for 5 more minutes. 

 

Let it cool for 10 minutes before serving.

 
3) Spicy Sriracha Popcorn: 
Looking for a simple and easy appetizer for your holiday season? These delicious sriracha popcorns always top the list. 
Ingredients: 
3 tsp vegetable oil

 

3/4 cup of popcorn kernels

 

4 tsp salted butter

 

2 tsp sriracha sauce

 

Kosher salt

 
Process: 
Grease the bottom of a large pot with vegetable oil.

 

Add the popcorn kernels, and cover the pot with medium heat.

 

Shake the pot well after the kernels are popped.

 

Remove the pot from the heat and pour the popcorn in a bowl. 

 

Melt the butter and sriracha sauce in a skillet and mix with popcorn. 

 

Season with salt before serving.

 
4) Caramelized mushroom tarts: 
If you are worrying about how to avoid the holiday calories without compromising the fun, here's a unique recipe for you. 
Ingredients: 
1 tsp olive oil

 

1 chopped onion

 

250 gm chestnut mushroom

 

1 crushed garlic clove

 

3-4 chopped thyme leaves

 

100 gm grated cheese

 

1 tsp butter

 

White bread slices

 
Process: 
Clean the mushroom and chop it into thin slices.

 

Fry the onions in a medium flame for 7 minutes.

 

Increase the heat and stir the mushroom for 5 minutes.

 

Add garlic and thyme leaves and let the mixture cool down.

 

Cut the bread slices with a cookie cutter. 

 

Butter each side and put them into a 12-hole tartlet tin.

 

Preheat the oven to 220° C.

 

Divide the mixture into tartlets and add grated cheese.

 

Bake for 10-15 minutes until the cheese bubbles.

 

Sprinkle some herbs before serving.

 
Last but not the least, preparing these delicious treats can take a toll on your kitchen cleanliness. Ensure to make all the recipes in only non-stick cookware.  
What is the safest non-stick material for cookware? 
Here is a list of some safest non-stick cookware materials that will ease the rigorous cleaning: 
Stainless steel

 

Cast iron

 

Silicone

 

Ceramic

 

Granite finish

 

Glass

 
Which cookware is the best non-stick? 
TheBetterHome's granite finish non-stick cookware contains 4 layers of coating and a sleek design. This elegant cookware is suitable for both cookstoves and induction. This premium cookware also comes with a 2-year warranty 
Is nonstick the same as Teflon? 
The coating of non-stick cookware is made from a synthetic fluoropolymer called polytetrafluoroethylene (PTFE), which is known for its ability to prevent food from sticking to surfaces.