Nifty tricks to organize your kitchen
Organizing your kitchen is one of the best ways to make it feel like a home. It's also a great way to save time and energy by taking care of tasks that you usually do in the evening or on weekends. Organizing your kitchen can initially seem daunting, but the process will be much easier with a few simple tricks and tips. The first thing to remember is that the more space you have in your kitchen, the easier it will be to organize. Also, try to reduce and reuse waste materials and choose glass jars with lids for storing food. Here are some quick tips for organizing your kitchen: 
Divide the containers: 
Nothing is more dissatisfying than seeing a cabinet packed with unnecessary plastic containers. So, one of the primary mantras for a clean and neat kitchen is a) to divide the containers according to categories like spices, baking ingredients, etc., and b) to ditch the plastic and replace it with glass jars. Borosilicate glass containers are affordable, long-lasting, and also eco-friendly. TheBetterHome's airtight Borosilicate glass storage jars have an elegant and chic approach to the kitchen interiors and keep the products fresh for longer.  
Put your essentials in the front: 
Whenever you are working in a kitchen and can't find some essential element, it's because lack of organization skills. So always keep your regular and essential materials in front and centre, for example, spice boxes, paper towels, sponges etc. 
Clean out your fridge frequently: 
In most Indian households, the refrigerator becomes a storeroom for food items, which certainly can make your fridge messy and stinky. Avoid keeping expired and rotten food in the fridge. Instead, keep some coffee beans if you are worried about the odour. You can adjust the cooling temperature and humidity level depending on the food items. This trick will help increase the food's shelf life. 
Invest in a rolling cart: 
If you have a big kitchen, it can be hard to find everything you need while cooking simultaneously. A rolling cart is one of the most valuable things in your kitchen. It's perfect for holding everything from pots and pans to baking sheets and food storage containers. If you have a space on your countertop (or a small, unused pantry), invest in a rolling cart to help you organize your kitchen. 
Install cabinet rackets: 
Cabinet racks are great for hanging utensils, pots and pans, and other tools on the back of your cabinets. They also make it easy to access these items without opening up the doors of your cabinets or drawers. In addition, cabinet racks keep things like towels and aprons off the countertops, making them easy to see when needed. 
Declutter utensil drawer: 
Utensil drawers are often full of random items that don't necessarily belong there (or anywhere else). So instead of using them just because they're available, invest in some drawer dividers so that each drawer only holds one category of utensils — say, spoons or knives? This will help keep things organized and make it easier to find what you need when cooking. In addition, use labels or hang-up hooks on each shelf so that everything is easy to find and stays clean.  
Organize bottles: 
Water or any bottles can be tricky in your kitchen because they tend to get knocked around and forgotten about immediately. That's why it's essential to organize them by type: filtered, non-filtered, etc. Then, you'll be able to see the labels at a glance and not waste time digging through the fridge for the bottle that's missing its cap or has been left behind by a guest. 
Opt for open shelves: 
Open shelves are a great way to store things like cereal boxes or other bulky items that are easy to access. They also make it easy for you to see what's on them at all times. You don't want to find that your cereal has spilt out onto the floor because you couldn't see it in the pantry. 
Select wire baskets: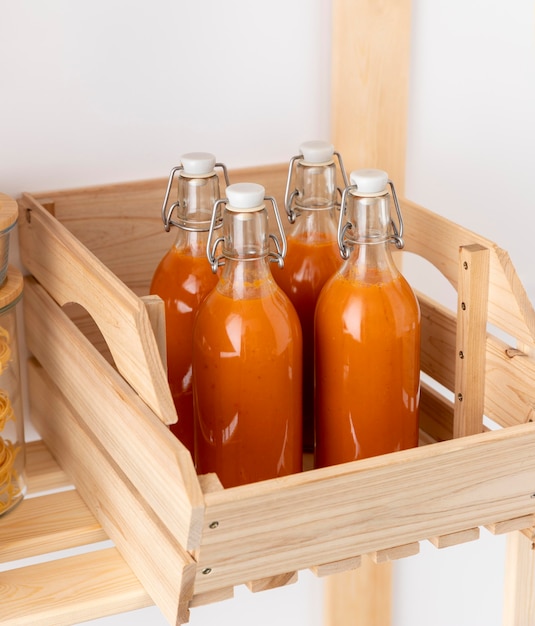 Wire baskets are great for organizing smaller items like cereal boxes, toilet paper rolls and snack foods because you can stack them on top of each other without getting messed up. Opting for open wire baskets is one of the easiest ways to cut down on plastic. These baskets contain a grid-like design that is perfect for stacking snacks and canned goods. Also, these wire baskets are easy to carry because it contains integrated handles. 
Add a whiteboard: 
This headline must be a little shocking for you, but this is one of the essential parts of your organized kitchen. Wondering why? You can easily make a to-do list for your regular duties in the kitchen or maintain a daily routine. Also, to eliminate boredom during kitchen cleaning, you can try doodling or writing some fun trivia on that board.